The older I get the more important it is to me to learn about where my food comes from. Good food is the best medicine. Did you know that blueberries are powerful antioxidants, they boost immunity, reduce inflammation, support brain health, protect against heart disease and cancer, help regulate blood sugar and even fight off UTIs. Why pop a pill when you can enjoy a bowl of blueberries?
Blueberry Compote
Ingredients
1 1/2 Pints of Frozen Blueberries
4 tablespoons of granulated sugar
1 teaspoon of lemon zest
1/4 teaspoon of lemon juice
1/4 teaspoon of finely chopped fresh lavender
Yields approximately 2 cups.
Directions
Place half of the frozen blueberries in a saucepan over low heat, stirring gently.
Slowly add the sugar, lavender and lemon zest.
Turn heat up to medium to medium-high and bring to a boil.
Add the remaining blueberries, reducing the heat to low. Stir occasionally for 6-7 minutes.
As the berries open, the juice will become thicker.
Once the berries juice has been reduced, remove from the heat and incorporate lemon juice, cooling mixture to room temperature.
Lemon Ricotta Pancakes
Ingredients
1 1/2 cups all-purpose flour
2 tablespoons sugar
1 teaspoon baking soda
pinch of salt
1 1/2 cups buttermilk
2 large eggs
2 1/2 tablespoons grated lemon peel
1/3 cup ricotta cheese
Coconut oil
Directions
Mix dry ingredients (flour, sugar, salt, and baking soda) in a large bowl.
Mix eggs, buttermilk, and lemon zest together.
Whisk the ricotta cheese into the eggs, buttermilk, and lemon zest.
Add wet ingredients to the dry ingredients.
Grease your griddle with coconut oil and turn to medium heat.
Once the two are fully incorporated, use a ladle to pour batter onto the griddle.
Flip pancakes when the batter bubbles and ends brown.
Yields 10-12 medium-size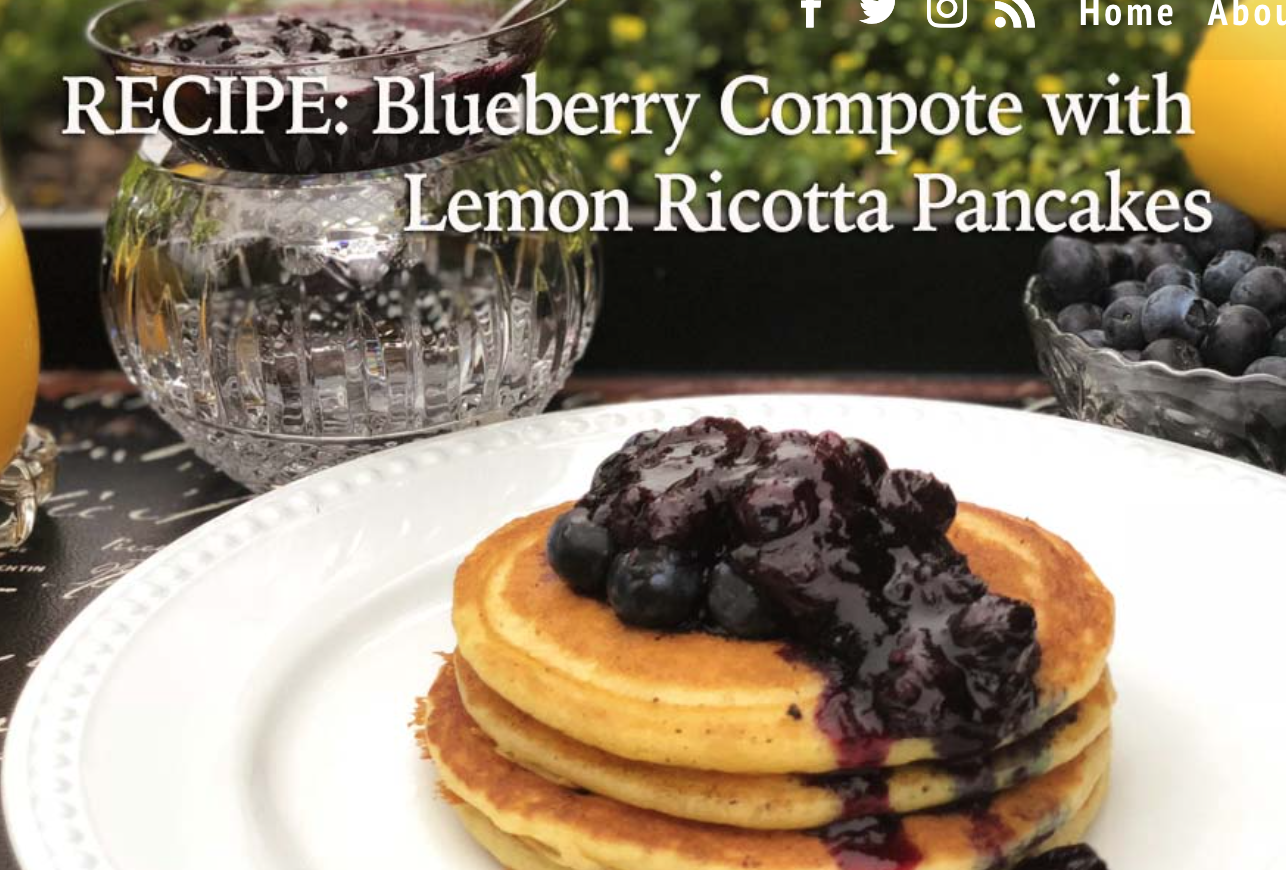 pancakes
What's your favorite way to use blueberries?
I made my compote with frozen blueberries, so no matter what season it is you can enjoy that fresh, farm-to-table flavor. Bon appetit!
Did you know that you can freeze fresh blueberries for up to a year? Wish Farms says:
Write the date on the plastic bag and store it in the freezer.
Gently rinse blueberries with cool water
Pat lightly with a towel to soak up water.
Allow time for the berries to thoroughly dry.
Evenly lay berries on a cookie sheet
Place cookie sheet into the freezer for approximately 2 hours; or until berries are completely frozen
Pour frozen berries into a large plastic zipper bag and seal tightly